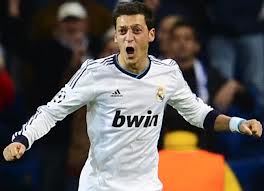 My idol is Mesut Özil. He is known as the wizard of Oz.He was born in Gelsenkirchen, in western Germany , on 15 th October 1988. Now he is living in Madrid, Spain.
He is 1,83 m tall and he kicks with his left foot.
Mesut Özil began playing for the youth teams of Germany in 2006, but in 2009 he debuted in the main team.
He played in Schalke 04, Werder Bremen and Real Madrid.
He is my idol because he is a great player and he is humble.